Pick Mii
An article by
Don Quixote
No Comments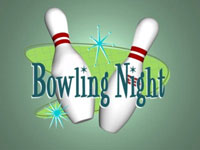 So we're starting a Wii bowling league.
I know, it's hard to believe but there you have it. In real life I'm a crap-tacular bowler. I honestly think that I've only ever broken 100 once or twice. On the Wii it would appear that I am doomed to repeat myself. All my friends call me Mr. Nine Pin (mostly because I said, "Hey, call me Mr. Nine Pin") because I always knock the same 9 pins down, and then for whatever reason I always miss the last one by inches. I'm sure that if I could just master the Wii remote by like half a turn I could be a monster.
Wii bowling isn't that hard. Jace has bowled 5 times now I think. He started out with 96, 121, 148, 183 and a 89. He was the first Soulliere to get a Turkey and then a Fourth, and he's convinced that will be able to bowl a perfect game soon.
And frankly, I believe him.
So back to this league thing. We've invited some friends, we'll do this twice a month on Sunday night, and go through May or June (I forget how Bobby worked it out). So I'm excited, it should be fun.
Now comes the hard part: thinking of a name for our team (Michelle and myself). This is what we've come up with so far:
Team Spirit
Smells Like Team Spirit
Spare Mii
Last Pin Standing
7:10 to Yuma
Team Michelle
Bob & The Wonder Twins
Lover's Lanes
Pin Me
Perfect 10
10 to Go
Freeze Frame
As you can see we're down to two possible choices. We like Spare Mii, because well, that's all I'm hoping for. Yet on the other hand, if we choose Freeze Frame, we've got a built in theme song, and I *know* that Jon is going to sing it every time we step up to bowl; it's just his way.
We've talked about handicaps for our league, but if Jace, who's never bowled in real life, let alone Wii bowling can have a spread of 89 to 183, I think 'any given Sunday', anyone of us can bowl a great game. But we'll see what the rest of the folks think about it.
All that having been said, I'm pretty excited, not because of the bowling, because I'm not overly bent on proving my prowess, I'm just stoked to laugh at my friends, and have them laugh at me as well. That's what it's all about really, just spending time with people you like, and dag-gum-it, people who can stand being around you for a while.
I'll keep you posted as things go along. Who knows, maybe I'll figure it out and I'll be bowling 200+ games… or at least watching Michelle bowl 200+ games.
Leave a comment
You must be logged in to post a comment.