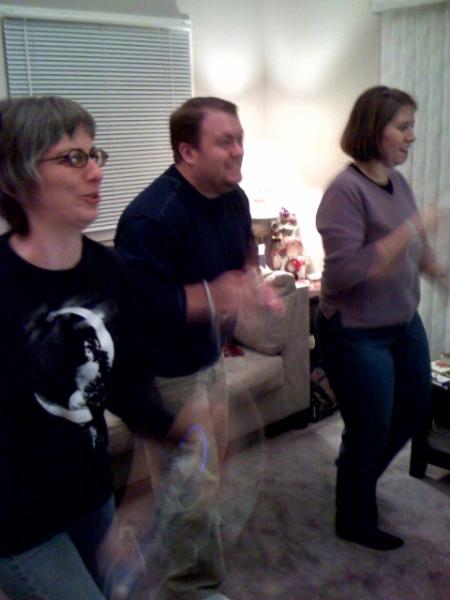 Tonight (or rather last night depending on the time you read this), we decided to have a New Year's Eve-Eve party.
Last year we had a New Year's Eve party and had a total blast. We did some food, some board games, and then watched CNN to bring in the new years. We wrapped it up by making fun of all the songs I've screwed up the lyrics on (oh come on, you know you've done it too – Eric Peter's Toilet Seat instead of Torrid Sea, Shawn Mullin's Sabarro's on Fairfax instead of a bar on Fairfax – the list goes on and on).
However this year Michelle and I made plans to enjoy New Years Eve alone since we spent our anniversary sick. Yet we had such a blast with our friends, we didn't want to miss out on a chance to hang out and enjoy some quality fellowship. So what to do?
Then we hit on the idea of having a New Years Eve-Eve party. So a few emails and phone calls and in about an hour or two we managed to pull everyone together and agree on a plan of attack.
We gathered at around 5:30 and enjoyed some Marco's Pizza and random beverages and crack a few jokes (most of them at my expense, but there was a great one about the little Smokey). We had some discussion about what to do next and narrowed it down to Wii, board games or a movie. Steph quickly decided that Wii was the thing (this was about 6:15).
Bowling turned out to be our first challenge of the evening. The surprising thing is, I suck at Wii bowling as much as I suck at real bowling. It doesn't matter that I knock down 9 pins all the time, I can't seem to close the deal to save my life, thankfully, I didn't have the lowest score of the evening though, that honor went to Bobby. We bowled two games each
Jon – 186 (Four strikes in a row)
Michelle – 170 (you totally suck!)
Stephanie – 159
Jon – 156
Michelle -153
Stephanie – 149 (you see a pattern here?)
Bob – 145 (best score ever, even higher than my real life score – yes I am that bad)
Debbie – 139
Bobby – 129
Debbie – 123
Bob – 116
Bobby – 84
A good time was had by all. However I think the most fun came from creating the Mii avatars that we used for the game. Each spouse got to create an avatar for their significant other. Jon & Debbie went cute and Bobby & Steph went nasty. Bobby ended up looking like a balding gray haired "Who" from The Grinch, while Steph was a total Eastern Block super star complete with unibrow and the denial of using male growth hormones. I was in tears.
From there we decided to bust out Mario & Sonic at the Olympic Games. While Bobby, Jon & Steph were all part of a virtual Wii Bowling league, we were all on the same footing here in this game.
It was awesome. The Wii experience is tough to describe until you've had it, but you're thinking, come on it's a video game, yeah video games. But until you've ran your little Mii through the 100m hurdles or totally poked your wife in Fencing, you just can't understand how much fun it is. It transcends age groups, and is really accessible to anyone (though some games weren't left handed friendly). We swam, we ran, we long jumped, triple long jumped, hammer tossed (which we had to watch a YouTube video to get the hang of it. Dang dude, you totally have to whip your hand around to get that thing going) and a slew of others.
One of the highlights of the hammer toss learning was when Bobby decided to see if he actually spun around if he would do any better – no he didn't end up going head first into the TV, but he almost did. I still can't believe with all that spinning he still managed to get the toss of and in bounds. Before you know it, as Bobby took Jon in a game of Ping Pong we hit midnight. Yes, that's right, midnight.
It goes without saying that everyone will be sore in the morning, but we certainly had a great time. I'm thinking that we need to have Wii nights to go with game nights. Well, happy New Years Eve everyone!